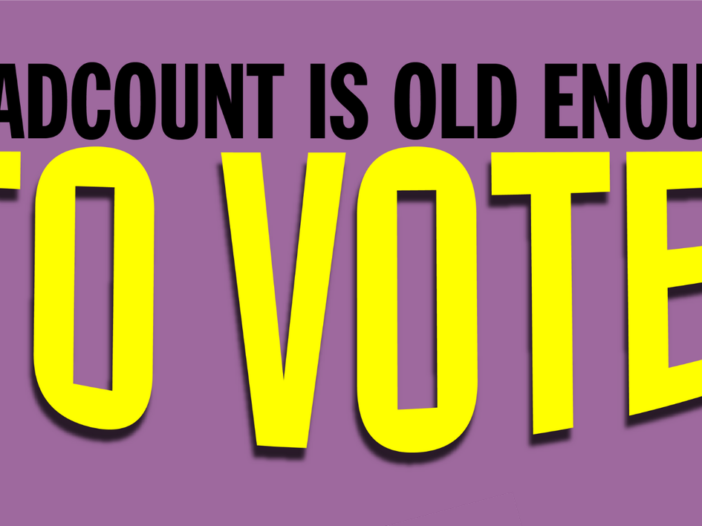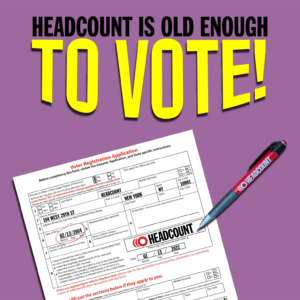 Non-profit voter registration organization HeadCount has just celebrated its 18th birthday, meaning that they themselves are old enough to vote! 
Back in 2004, I remember my friend, Andy Bernstein first starting the organization along with his partner, Mark Brownstein. This was around the time I was first building the Rock Against Bush movement. 
HeadCount and PunkVoter both worked with musicians to encourage voter registration and participation in elections, particularly through activism and live events. HeadCount started off in the jam band/hippie & non-partisan voter registration world… and PunkVoter, well… we were a strictly partisan outfit that was a messaging vehicle for the punk scene to encourage the counterculture to do something radical… vote! We provided energy and excitement to young voter engagement as HeadCount was building an unstoppable voter registration machine. 
After the 2004 elections, Fat Mike went back to making records and I went on to work on the Obama campaign. But those hippies kept truckin' (sorry, couldn't help make at least one Dead reference in this post). It's been impressive to watch Andy and team expand their efforts into all genres of music, making a name for themselves with touring musicians, music festivals, public service announcements and more. 
To date, HeadCount has registered more than 1,000,000 voters at more than 1,000 events taking place each year. If you, or someone you know, is turning 18 in 2022, visit this link to register to vote through HeadCount's website. 
Congratulations on this milestone!